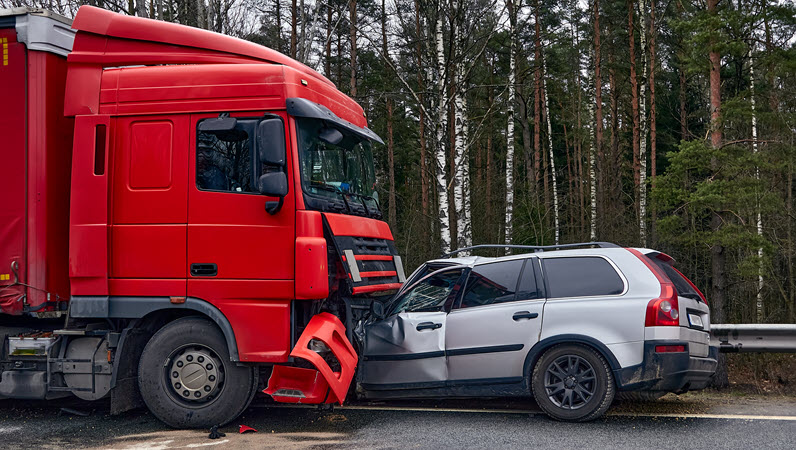 Wilmington Truck Accident Lawyers
Skilled representation for victims of commercial vehicle crashes
In and near Wilmington, all types of commercial trucks travel on I-95, I-495, and I-295. Truck drivers operate their vehicles on US Routes 13 and 202 and numerous Delaware routes and local Wilmington streets. Large tractor-trailers, semis, rigs, box trucks, and hazardous material trucks are extremely dangerous. Cars and motorcycles are simply no match for any type of large truck in a collision. When truck accidents occur, the car occupants and motorcycle riders are likely to die or suffer very severe injuries.
At Silverman, McDonald & Friedman, our Wilmington truck accident lawyers have more than 100 years of combined experience fighting for injured drivers, passengers, pedestrians, and bicycle riders. We also represent families when a loved one dies in a truck accident. Our lawyers are skilled at determining who is liable for the accident. Often, multiple defendants are responsible. We're skilled at showing how the accident occurred. We have an impressive record of settling truck accident cases and trying truck accident cases in court.
Why are Wilmington truck accidents so dangerous?
According to the Delaware State Police, in 2018, there were 2,117 traffic crashes that involved "a truck tractor and semi-trailer, other truck combination, and/or a commercially used van." Trucks are much longer, wider, and taller than cars. They weigh much more than cars. This means that when a car and a truck collide, the car will take the brunt of the force.
Tractor-trailers are difficult to drive. Drivers need a special commercial driver's license and special education skills and training to ensure they can control and maneuver their trucks. Some of the main difficulties involved with controlling an 18-wheeler include blind spots and moving cargo.
Many truck drivers speed because they make more money if they make more deliveries. Often, the trucking company or vendor that hires the truck driver pushes the driver to deliver their goods ahead of schedule. Truck driving is lonely job. Many drivers drive without having enough rest, drive while distracted, or drive while intoxicated.
What injuries are caused by truck accidents and collisions?
A crash with a semi-truck can be truly catastrophic, and victims can suffer injuries that require extensive and varied care. Most truck accident victims require ER or burn center care, surgeries, visits with orthopedists and other specialists, and extensive physical therapy. Some victims may require prosthetics and other assistive devices.
Silverman, McDonald& Friedman helps people who have suffered substantial injury in a truck crash, handling claims for:
Amputation
Muscle, nerve, tissue, or ligament damage
Broken bones
Neck, shoulder, or back injuries
Chronic pain
Damage to internal organs
Heart attacks
Vision or hearing loss
Scarring and disfigurement
Lacerations and bruises
Tragically, Wilmington truck accidents often cause a loved one to die. We file a wrongful death claim on behalf of the surviving family members.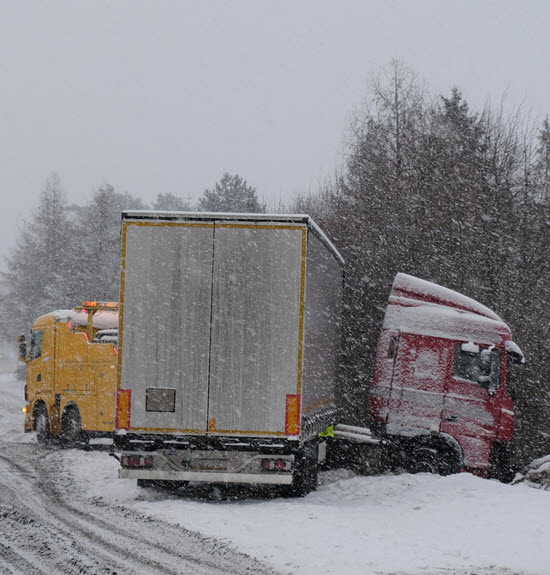 What types of truck accidents occur in Wilmington, DE?
Many truck accidents are head-on crashes, T-bone crashes, read-end collisions, and sideswipes – the same types of wrecks that involve cars, motorcycles, and other motor vehicles. There are a lot of truck accidents that are unique to the trucking industry. These unique accidents include:
Jackknifes. These accidents involve tractor-trailers where the trailer shifts away from the tractor at a 90-degree angle. The accidents occur because tractors and trailers don't always travel in unison.
Rollovers. A truck has a different center of gravity than cars making trucks much more prone to rollovers. Trucks are likely to roll over when the truck driver takes a turn too quickly. Trucks that roll over spread across the highway causing danger for any nearby drivers. When trucks roll over, the cargo is likely to spill on the road.
Blindspot accidents. Large trucks are difficult to drive because most drivers cannot see behind them and to their sides. Truck drivers even have blind spots right in front of them due to the height of the truck. Mirrors often are not enough to inform the driver where he/she can safely turn or travel.
Wide turn accidents. Cars that are too close to a truck, especially on the right side of a truck, are likely to be crushed when a large truck such as a tractor-trailer turns. Wide-turn truck accidents at intersections are quite common.
Underride accidents. Many compact cars are so small they can slide under a truck if an accident occurs killing the car driver and passengers. Trucks should be equipped with rear underride guards and side-guards.
Cargo spills and overloads. According to the Occupational Safety Health Administration (OSHA), there are special rules that govern how to load different types of material on trucks. Truck companies and drivers need to know the proper standards for loading their trucks, so the trucks don't have too much weight, and the cargo doesn't shift while the truck is being driven. Truck spills create havoc for every vehicle near the spill.
Tires blowouts. Most trucks have many more tires than cars. Just one tire blowout can cause a fatal crash or serious injuries.
Who is liable for a commercial truck accident?
In most truck accident cases, there are multiple defendants. The truck driver is the most obvious defendant, but trucking companies are often liable for various reasons:
Truck owners are generally liable for the negligence of their drivers.
Truck companies generally have a duty to vet their driver to determine his/her qualifications.
Truck businesses have a duty to inspect their trucks and make appropriate repairs.
Truck cargo should be loaded safely and according to the applicable rules and regulations.
Trucking companies must keep appropriate records or logs.
Trucking companies may be liable if they push the driver to make deliveries according to unsafe schedules.
Our Wilmington truck accident lawyers file claims against one or more of the following:
The truck driver
The owners of the truck
A trucking company hires the driver
The truck broker
Truck maintenance companies
Manufacturers of defective truck parts
The Delaware Department of Transportation or other governmental agencies/units may also be responsible.
At Silverman, McDonald & Friedman, our Wilmington truck accident attorneys work diligently to show how the truck accident occurred. In addition to working with investigators, truck product safety experts, and other professionals, we conduct extensive discovery by questioning the defendants in writing and the defendants and witnesses in person. We also request information and documents to examine:
HOS logbooks
Whether the truck driver complied with the time-off requirements
All records of inspections and repairs
Whether the driver used a cell phone will driving
When and how the truck driver was trained and educated about truck driving protocols
Related: 
Proving trucker negligence in an injury lawsuit
Truck drivers and trucking companies need to understand all the reasons why truck accidents may occur. Most trucking accidents are due to driver negligence, or because a trucking company failed to inspect and repair the trucks. The dangers of truck driving are so well-known that there are regulations such as the Federal Motor Carrier Safety Administration (FMCSA) rules and Delaware state laws that govern truck driving safety.
At Silverman, McDonald & Friedman, our Wilmington truck accident lawyers work aggressively to show how the truck accident happened. Most trucking accidents in and near Wilmington are due to:
Driver fatigue
Driving while intoxicated
Driver distraction
Speeding, especially through curves
Failing to secure the cargo
Overloading the cargo
Tailgating
Driving too fast for weather or traffic conditions
Blind spots
Backing out improperly
Not conducting regular inspections
Improper driving credentials
Road unfamiliarity
Improper turns
Driving on roads restricted to passenger vehicles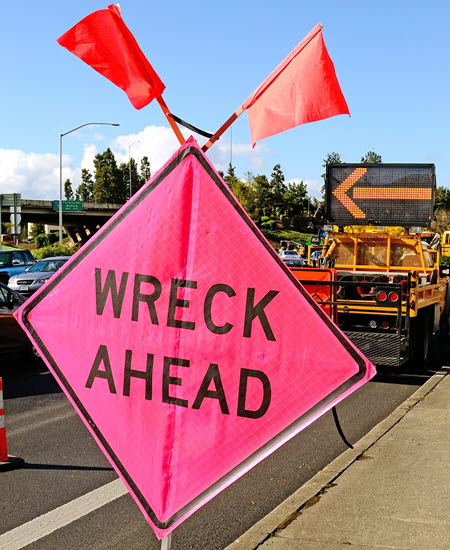 Holding manufacturers responsible for defective truck parts
Manufacturers of truck parts are liable if a defective truck part causes a truck accident. Defects include defective designs, workmanship, and instructions. Truck part manufacturers also owe a duty to warn truck owners of any possible dangers. Manufacturers need to understand the dangers their trucks create such as the need to have more distance to stop.
Defective truck parts include fuel lines, electrical systems, brakes, lights, wipers, hydraulic systems, software, airbags, and other parts. Our Wilmington truck accident lawyers work with product safety engineers and experts to help prove a truck part was defective and that the defect caused the accident. Our lawyers also examine the National Highway Traffic Safety Administration to see if there was an applicable truck or truck part recall.
We also file claims against the distributors and retailers of the defective truck parts.
How much is my Wilmington truck accident case worth?
There is no precise formula. Insurance adjusters and juries consider many economic and personal factors. Accident victims can seek pain and suffering in Delaware even if they use their PIP insurance.
Our seasoned Wilmington truck accident lawyers demand damages for the following:
Your medical bills including ER care, surgeries, doctor visits, rehabilitation therapy, assistive devices, and medications.
Your lost income including wage loss, lost profits, and lost benefits – for as long as you cannot work.
Your pain and suffering which includes your daily aches, your constant worries, and your inability to function like you did before the truck accident happened.
Scarring and disfigurement. Burn injury victims, amputees, and other injuries often justify scarring and disfigurement damages.
The cost to fix or replace your vehicle.
Loss of consortium damages for your spouse.
The cost to fix or replace your vehicle.
Loss of consortium because your injuries affect the ability of spouses to enjoy each other.
We work with your care providers to document your medical expenses, your injuries, the care you need, and the extent of your pain. We also work with your employers to document your financial losses and with car mechanics to confirm the damage to your car or truck.
What should you do after a Wilmington truck accident?
After a trucking accident, some of the key steps you need to take include:
Exchanging contact and insurance information with the other drivers.
Calling the police.
Going to the local emergency room and following up with the medical care you need.
Calling your lawyer as soon as possible.
Taking pictures or videos of the accident site and the damage to the cars.
Contacting your insurance company.
Depending on how serious your injuries, you may need immediate medical care. In this case, you have a loved one contact us. Remember, many injuries such as whiplash don't appear right away. You should still go to the ER even when you feel fine.
Your lawyer will explain the time limits for filing a truck accident claim. Generally, you must file a personal injury claim within two years from the date of the accident. As a rule, you should contact your lawyer immediately so the investigation can start.
Do you have a truck accident lawyer near me?
Silverman, McDonald & Friedman's office in Wilmington is located at 1523 Concord Pike, Suite 400. We also maintain additional offices in Newark and Seaford. If you are too injured to travel to us, we will come to you.
Speak with a caring experienced Wilmington truck accident lawyer now
It's critical to contact our experienced Wilmington truck accident lawyers as soon as possible. We'll answer your questions, help address your immediate needs, and guide you through the litigation process. At Silverman, McDonald & Friedman, we work aggressively to investigate how the accident occurred and to ensure you are seeing the doctors who can treat your injuries. We have the experience and resources to help you get justice. Call 302-888-2900 or use our contact form to schedule a free consultation at our Wilmington office or any of our other Delaware offices.