Delaware State University Athletes Injured in Charter Bus Accident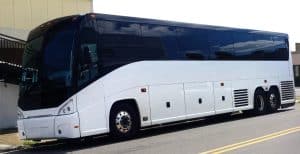 Getting into a bus accident can be scary, especially when you are not sure what to do next. At Silverman, McDonald & Friedman, we understand the difficulties that come along with navigating an accident; and we can help make the process of seeking compensation for your pain and suffering just a little easier. Call us in Newark, Wilmington, or Seaford today.
Earlier this year, there was an accident involving a charter bus transporting the Delaware State University's women's bowling team to a tournament.  Reports say that the bus driver lost control of the vehicle on a Virginia highway. The bus ran off the road and overturned, injuring the driver and all 10 passengers. The driver was charged with reckless driving and failure to maintain control of a vehicle.
When you hire a charter bus, you assume the driver will be responsible and professional, and follow the rules of the road. Accidents do happen, but negligent or reckless behavior can lead to serious injuries. Everyone trusts that professional drivers will always get them to their destination safely. Unfortunately, that is not always the case.
What causes charter bus accidents?
Much like passenger vehicle accidents, charter buses can get into accidents for a variety of reasons. However, the injuries sustained and the damage they cause can be significantly worse because of the vehicle's size and how many people they carry. Some causes for charter bus accidents include:
Driving under the influence – While it may not be as common as other causes, getting behind the wheel after consuming alcohol or drugs, even some prescribed medications, can affect how safely you drive.
Distracted driving – Even though it may not seem like a distraction, drivers eating or drinking as they are on the road can be dangerous. The same goes for changing the music, talking to passengers, or, the more obvious, texting. Anything that causes the driver to divert their attention from driving for even a second is considered a distraction.
Speeding – On long trips, drivers may become unaware of just how fast they are going if they've been driving a while, or they want to get to their destination faster. Going above the speed limit, especially in a large vehicle, puts everyone in the bus and on the road at risk.
Vehicle defects – If some part of the charter bus malfunctions, like the brakes suddenly not working, then it could cause an accident without the driver necessarily being at fault.
Road conditions – If the roads are slippery from rain or ice or have large pot holes, a major accident can happen. Since charter buses are bigger, they can be thrown off balance more easily which also makes them more susceptible to turning over.
Who is responsible for the student athlete's injuries?
Whenever there is an accident involving a charter bus, determining who is liable for injuries or damage can be a little confusing. Is it the driver, the company itself, or someone else?
The charter bus company is liable if they:
Failed to keep up with proper vehicle maintenance.
Had illegal or incomplete repairs done to the vehicle.
Had passengers injured in an avoidable accident.
The charter bus driver is liable if they:
Caused an avoidable accident.
Displayed clear negligence or reckless driving behavior.
The manufacturer is liable if:
There was a manufacturer's defect on the vehicle that caused or led to the accident.
In some situations, like the University of Delaware's women's bowling team accident, more than one person or entity can be held liable. In that case, both the charter bus company and the driver can be taken to court for causing an avoidable accident that led to injuries.
Charter bus companies are required to have insurance
Companies must obtain authority from the Federal Motor Carrier Safety Administration for each of their buses before they are cleared to operate. And luckily, their vehicle insurance requirements are federally mandated on top of that. So even though the bus was traveling out-of-state from Delaware, the amount covered stays the same no matter what. According to the U.S. Department of Transportation, each for-hire motor carrier, like a charter bus, is required to carry insurance of at least $5 million for vehicles that hold 16 or more passengers or at least $1.5 million for vehicles that hold 15 or fewer passengers.
While this number may sound like a lot, if every seat was filled on that bus and it was such a bad accident that it caused major injuries in everyone, the minimum policy may not be enough. Everyone on board may need help covering medical bills, rehabilitation, or lost income as a result of the accident. And if that is the case, contacting a Delaware auto accident attorney is the best next step forward. They will help solidify your case for the court and work with insurance companies to make sure you are rightfully compensated for all that you have been put through.
Taking an accident involving a Delaware charter bus into court is not an easy fight to take on alone. Trying to figure out who exactly is at fault for the accident can be extremely confusing and may even be difficult to prove. However, the attorneys at Silverman, McDonald, & Friedman can help. Our experienced personal injury lawyers will help investigate the accident, determine fault, and hold the right people accountable. You deserve to be compensated for all of your pain and suffering after an accident caused by someone else's negligence, and we will help secure it for you. To discuss your personalized car accident case, call our office or submit our contact form to schedule a free consultation. We have offices in Wilmington, Newark, and Seaford.