Workers' Compensation Benefits for Shoulder Injuries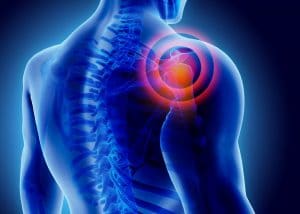 Our shoulders take a lot of strain. If you sustained a shoulder injury in the course of your job duties in Delaware, you can make a claim for workers' compensation. Call Silverman, McDonald & Friedman today in Wilmington, Seaford, or Newark, and get started on your case.
Construction workers are constantly lifting, carrying, and moving heavy objects. Waitresses routinely carry heavy trays that place stress on their shoulders. Any worker who works with machines, works in the fields, or uses their arm to do their work can suffer a should injury.
Shoulder injuries may be due to force, a tear, or an awkward movement. They may also be due to the constant wear and tear on the shoulder. While treatment may help, many workers with shoulder injuries live with chronic pain.
Common types of workplace shoulder injuries
The shoulder is a complicated joint. There are a lot of things that can wrong. Fully repairing a shoulder injury may be difficult. According to the Mayo Clinic, a few common types of shoulder injuries are:
Broken clavicle collarbone. Your collarbone connects the upper portion of your breastbone with your shoulder bone. Surgery may be required to fix this type of fracture. The healing and physical therapy recovery can take months.
A dislocated shoulder. Here, part of your arm moves out of the cup-shaped socket in your shoulder blade. While this type of injury is often treatable, once you dislocate your shoulder – you're at risk for future dislocations.
A separate shoulder. According to the Mayo Clinic, separated shoulders involve stretching or teras of the ligaments which connect the collarbone and the shoulder blade.
Brachial plexus injury. This injury happens due to compression or stretching of the nerves in the shoulder – or other causes.
Torn rotator cuff. While tennis players often suffer this injury, workers do too. A torn rotator cuff normally requires surgery and extensive rehabilitative therapy.
Other types of shoulder injuries include sprains, frozen shoulders, and labrum tears.
What causes shoulder injuries at work?
A leading cause of shoulder injuries at work is overexertion: pushing yourself too hard, which leads to tears, sprains, and strains. If your role requires you to make the same bodily movements over and over again, you can suffer a repetitive stress injury in your shoulder(s). Other causes of injuries can include:
Being hit by objects
Crushing injuries and limb loss from heavy machinery
Electric shocks
What types of health care providers treat shoulder injuries treated?
After an initial review, usually at a local emergency room, you will likely treat with:
Orthopedists who treat bone disorders and muscle and ligament damage – often through surgeries
Pain management doctors may provide help through injections and other treatments
Physical therapists who help strengthen your muscles in and around the shoulder
What workers' compensation benefits can I receive for a shoulder injury?
Workers who are injured at the worksite or in the course of their job duties are potentially entitled to:
Compensation for your medical care including surgeries, rehabilitation, and medications
Temporary work loss benefits or permanent work loss benefits
Vocational benefits for retraining in a new position
The seasoned Delaware workers' compensation lawyers at Silverman, McDonald & Friedman, are strong advocates for workplace injury victims. We work with the treating doctors and independent doctors when necessary, to fully document and assess your injury and the type of care you need. In shoulder injury cases, we fight to ensure the employer doesn't force you back to work until you're healthy. For help with any workplace accident, please call us at 302.888.2900 or use our contact form to discuss your case with our offices in Wilmington, Newark, and Seaford.