What Are the Most Common Back Injuries from Car Accidents?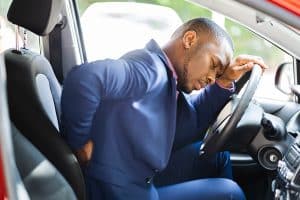 If you have recently been involved in a car accident and sustained injuries to your back, Silverman, McDonald & Friedman wants to help. Please contact one of our offices in Newark, Wilmington, or Seaford today to learn more.
When a person has been involved in a car accident, they may immediately notice their back is sore. Back pain and injuries from a car accident are very common. It may take a few days or weeks to resolve this back pain, or it may become something that you have to spend the rest of your life dealing with.
How does a car accident cause back injuries?
There are a few ways you can injure your back in a car accident. The most common way is from the back-and-forth motion that occurs at the moment of impact; it can crack a vertebra, cause a disk to slip, or wrench a muscle or ligament.
You can also sustain a back injury from a projectile. If, for example, you are hit in a T-bone accident, glass or shrapnel can enter the car and strike you in the back if you turn at the moment of impact, or happen not to be wearing a seatbelt. (Note: always wear your seatbelt.) Most vehicles have crumple technology that protects drivers and passengers from head-on and rear-end collisions, but it is not as common for side-impact.
It is worth noting that the physics of the accident is what causes harm: objects in motion stay in motion until they are stopped, and the force of the hit, if not fully absorbed by the vehicle, will transfer to you instead. Seatbelts and airbags keep you from flying around the car, but in return, they also prevent your body from moving in a natural way on impact. Add this to the way people tense up before a hit, and it's easier to understand why even a "minor" car accident can cause such damage.
The areas of the back that are affected by a car accident
There are three different areas of the back that can be injured in a Delaware car accident. Alexander Orthopedic Associates explains:
An automobile collision can affect the lumbar vertebrae (lower back), thoracic vertebrae (upper back), and cervical vertebrae (neck). Each area consists of tissues, nerves, ligaments, bones, tendons, and muscles extending from your neck to your pelvis.
With 33 vertebrae spine bones, 31 nerve roots, and 32 muscles in your neck and back, any damage can have long-lasting effects. The most common back injuries are to the lumbar spine located in the lower back. There are five vertebrae in your lumbar spine. Soft discs with a soft nucleus and rugged outer ring sit between each vertebra.
Thoracic injuries are less common due to their rigid structure but more serious as the upper back connects to the rib and chest region. Damage to one or more of the 12 vertebrae can affect your breathing, cause nerve damage, or lead to chronic pain.
The types of back injury symptoms from a car accident
Your symptoms after a car accident may vary depending on where your injury is located. You may be feeling sore or have lingering pain all over, making it difficult to pinpoint any specific damage to your back or spine. The following are a few of the symptoms you may experience after a car accident if you have a back injury:
Sharp pains
Stiffness
Throbbing pain
Radiating pain
General soreness
Difficulty bending, stretching, sitting or standing
Pain while walking
When back pain may be a sign of something else
The National Institutes of Health recommends seeking medical care for any back pain related to trauma, regardless of how severe your pain is. It also warns that there may be more serious problems present if you experience:
Numbness and tingling.
Severe back pain that does not improve with medication.
Back pain along with:

Trouble urinating.
Weakness, pain, or numbness in your legs.
Fever.
Weight loss that you did not intend.
The most common back injuries from car accidents
While there are many different back injuries that occur from car accidents, there are a few that are most commonly reported among car accident victims:
Herniated Discs: The discs in your back can easily move and pinch nerves, which can result in a herniated disc. A herniated disc is best described as the inner part of your spinal disc being pushed outward through an outer ring.
Degenerative Spinal Disorders: A traumatic back injury can lead to a degenerative spinal disorder for months or even years after the accident. It can also cause other health issues that you were not aware of before to become much worse very quickly.
Back Strains: When you have a back strain, this means that your soft tissues have stretched too far. This can cause permanent damage and may be very painful.
Thoracic or Lumbar Vertebrae Fractures: There are different types of fractures that you can experience after a car accident. Fractures are when your vertebrae crack, break, or become damaged.
Spondylolisthesis: This occurs when your vertebrae are moved by a stress fracture. When this happens, the vertebrae that have shifted may pinch your nerves or spinal canal. Depending on where the vertebrae have moved to, you may experience excruciating pain, weakness, and inability to walk.
If you have experienced a car accident in the state of Delaware and need assistance with filing a claim, the attorneys at Silverman, McDonald & Friedman will be happy to assist you. We know that there are long-term repercussions from back injuries and that your life will never be the same. Our car accident lawyers encourage you to continue focusing on healing, while we prepare to fight for your rights and ensure that you receive the compensation needed to cover your expenses. Call our office or submit our contact form to schedule a free consultation at one of our offices in Wilmington, Seaford, and Newark.
Related: