What Is an Independent Medical Exam?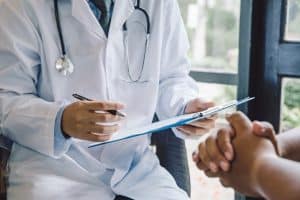 If you need assistance with filing a workers' compensation claim or have questions about a request for an independent medical exam, call our workers' compensation attorneys at Silverman, McDonald & Friedman. We serve the entire state of Delaware, with offices in Wilmington, Newark, and Seaford.
If you have recently been injured on the job and filed a workers' compensation claim, you may be wondering why you are being asked to participate in an independent medical exam and what exactly it entails. While it is not uncommon to be asked to undergo an independent medical exam, it can delay the process of your claim.
What is an independent medical exam and why would you need to complete one?
An independent medical exam provides an assessment of your illness or injury. The doctor who performs this exam will evaluate the extent of your injury or illness and answer the following questions: how severe is your illness or injury, what type of treatment do you need, and will you be able to return to work in the future.
An insurance company usually requests an independent medical exam when they believe that worker has reached the maximum medical improvement (MMI), but:
The worker says they are still injured.
The worker's doctor says they are still injured.
There is some dispute with the claim.
The ultimate goal of these types of exams is to make sure your claim of the extent of your injuries or illness is factual and given by an unbiased physician.
How is an independent medical exam physician selected?
If your insurance company asks you to undergo an independent medical exam, they most likely will provide the doctor that they would like you to see. Most people become frustrated when this happens because it leads to wondering if the doctor will remain unbiased, even though they are relying on the insurance company for clients and payment.
The good news is that in Delaware, you can also choose your own doctor after you have suffered a work injury. This means you will end up seeing two doctors – yours, and the one the company chose for you. It also means that you may have conflicting medical reports, if your doctor says you're still injured but the company-hired doctor says you're ready to go back to work. Should this happen, make sure you call us so we can plan the next steps of your claim.
What should you expect from an independent medical exam?
There are several different parts of an independent medical exam. Depending on the extent of your injuries and what type of tests may be needed to properly assess them, you may be looking at as little as 5 minutes or as long as a couple of hours.
Here's what you need to know:
You are under observation from the moment you enter the office
From the moment you set foot in the building, you are being watched. The doctor and the staff will be observing your every movement. Did you enter with that limp? Were you pacing the waiting room even though your injury was to your legs? Did you wince standing up or sitting down? Everything you do and say will be reviewed.
The doctor will want access to records he/she is not entitled to review
When you seek treatment for a work injury, you only have to supply medical records related to that injury. But this will not stop the work-provided doctor or case manager from trying to access your entire medical history. If they ask for these records during the IME, politely decline and remind them that you signed a release for specific records only.
You may – or may not – be put through a series of tests and exams
If the company doctor is serious about ensuring you have the right care, then he or she will conduct a thorough exam. Aside from the basics (asking how you feel, recording any symptoms, checking personal info like height and weight), your doctor may conduct reflex tests, ask you to perform certain tasks, have you move about the room, and even request X-rays, MRIs or CAT scans. Chances are good your own doctor will ask for any and all of these.
But this is the company doctor. There is a very good chance he or she will poke at you a bit, ask a few questions, and then be finished with the exam in moments – and yet this is the report that the insurance company will want to listen to when it comes to ending your benefits.
After you have participated in the independent medical exam, the doctor will write out their opinions regarding your illness or injury. Once the report is complete, you and your workers' compensation lawyer will receive a copy of it. Make sure you get in touch with your attorney as quickly as possible after receiving the report as they can help you understand everything it says as well as provide advice on what you should do next.
Is it possible to challenge an independent medical exam?
While independent medical exams do mean a lot when it comes to workers' compensation claims, it is not impossible to challenge the results. It may be difficult, but a skilled attorney will know what to do going forward with your case.
If you have proof that there was a mistake made in the report, or if there was information provided that was not true, your attorney will make sure you are given the opportunity to show this proof. You will be required to write a letter to the insurance company as well as the doctor who conducted your exam. The purpose of this letter is to let them know that there were mistakes and inaccurate information provided. To successfully do this, you will need to attach supporting documents that show that the medical information was incorrect.
You can also challenge a report if your own doctor disagrees with the assessment of the company doctor. If this is the case, you may need to have a hearing to determine the true scope of your injuries, and whether you are able to go back to work. Our Delaware workers' compensation attorneys can represent you in this hearing.
If you have been injured or developed a serious illness from work, Silverman, McDonald & Friedman are here to help you file a workers' compensation claim. Our Delaware attorneys are available in Wilmington, Seaford, and Newark for your convenience. Call our office or submit our contact form to schedule a consultation today.