Common Injuries Sustained by Professional Welders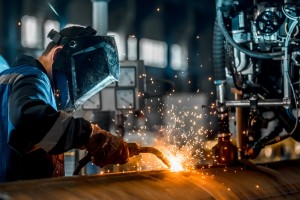 Our experienced Delaware workers' compensation attorneys at Silverman, McDonald & Friedman have many years of experience fighting for injured clients. Contact us today to set up a free consultation at one of our law offices in Wilmington, Seaford, or Newark.
Workers who regularly use electricity, operate near extreme heat, and handle metal objects are highly susceptible to sustaining workplace injuries. Professional welders engage in all of these activities on the job. Understanding some of the most common welding injuries can help you protect yourself in the future and avoid these injuries.
Electrical shock
Electric shock is one of the most common types of welding accidents. Without proper grounding, a primary or secondary voltage shock can enter a welder's body when two metal pieces that contain electrical voltage make contact with each other. These shocks can cause first or second-degree burns. Welders should receive proper safety instruction from employers regarding the proper grounding of welding equipment and other safe practices to avoid this injury.
Arc eyes and welder's flash
The arc rays produced from welding emit ultraviolet rays. Skin burns can result from exposure to this radiation. In addition, these UV rays can damage the retina of the eyes, which is referred to as "arc eyes."
A condition called "welder's flash" results from continual exposure to excess light and radiation. The symptoms of this condition include dry eyes, tearing eyes, burning sensation in the eyes, and over sensitivity to light. Doctors often prescribe medications such as painkillers, eye patches, eyedrops, and ointments to alleviate both of these conditions. Companies have a responsibility to provide safety information and training to welders to help them protect their eyes, which may include wearing a welder's mask, coated safety goggles, or specially made sunglasses.
Toxic exposure
The process of welding often produces dangerous toxic fumes. These fumes and gases contain harmful chemicals that workers can breathe in regularly in dangerous amounts if welding equipment is not maintained properly and welding areas are not adequately ventilated. Toxic exposure to these chemical byproducts, which can include manganese, lead, aluminum, arsenic, carbon dioxide, and carbon monoxide, can eventually cause respiratory diseases and lung cancer.
Burns
A welding arc produces high temperatures that can cause dangerous working conditions. Fires emanating from welding sparks can cause severe burn injuries. For instance, a single greasy rag can catch fire from a welding spark and quickly inflict serious burns. The eyes are also susceptible to burns if they are not properly protected. UV radiation can also burn the eyes.
Hearing loss
A typical industrial welding environment can produce noise pollution at a level of 85 decibels. If the welder is not wearing proper ear protection, they risk hearing loss or injury to the ear canal. Contractors have a responsibility to inform of and enforce safety standards that protect the hearing of welders.
Welders and their families can incur significant medical expenses and lost wages resulting in burdensome financial stress as a result of injuries sustained on the job. Employers are responsible for providing welders with proper safety training and a safe working environment. Companies owe injured welder workers' compensation benefits if they incur injuries on duty.
If you have sustained a welding injury during the course of your work duties, you have a right to workers' compensation benefits in Delaware. Our adept attorneys at Silverman, McDonald & Friedman are here to fight for the workers' comp benefits you are owed under the law after a workplace injury. To arrange a free, initial consultation, call us today at 302-888-2900 or complete our contact form. We advocate on behalf of clients from our offices in Newark, Wilmington, and Seaford.
Related: