Extra Precaution While Approaching Railroad Crossings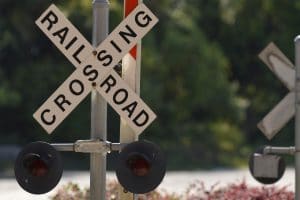 Train collisions are rare compared to car or truck accidents, but they are almost always fatal. The Delaware injury attorneys at Silverman, McDonald & Friedman can help you secure the compensation you deserve if injured in a collision involving a train. Call one of our offices in Wilmington, Newark, or Seaford today for more information.
Last month, a horrific train collision occurred in Houston between a tractor-trailer and a freight train. At 7:00a.m., a Kansas City Southern train struck the tractor-trailer, and the tractor-trailer burst into flames as a result. The driver of the tractor-trailer was parked on the tracks waiting for traffic to continue while the train was approaching.
The driver was pronounced dead at the scene, while the train crew suffered no injuries. Fatal accidents like these are a reminder that all drivers must practice precaution while travelling through railroad crossings.
According to the National Safety Council (NSC), there were a total of 757 railroad deaths that happened in 2020. Operation Lifesaver, a nonprofit organization that promotes railroad safety, claims that a vehicle or pedestrian is struck by a train every three hours in the United States.
What is the leading cause of train/vehicle collisions?
The primary reason for railroad crossing accidents involves driver error. About half of all railroad crossing accidents occur at sites with noticeable warning signs and devices. Trains do not have the capability of immediately stopping or changing directions while on the tracks. Because of this, it is in the driver's best interest to practice extra precaution when approaching or driving over railroad crossings.
Examples of dangerous actions of drivers at railroad crossings
As foolish as this sounds, one of the more common dangerous acts that drivers perform when crossing a railroad crossing involves trying to beat the train, even when the driver is aware that the train is approaching. Again, because a train cannot immediately stop, the driver is putting themselves at risk of experiencing a fatal accident. A train is similar to a commercial vehicle in that it needs additional time to safely come to a stop. Most of the time, trains do not stop in time to avoid collisions with other vehicles.
Another dangerous action that drivers engage in is stopping on the train tracks, thinking the traffic will move before the train comes through. In the case of the tractor-trailer driver, traffic was the reason why the driver was stuck on the tracks.
Note that truck drivers can especially fall victim to an engine stalling while on the railroad tracks, making it difficult for the truck driver to cross over the railroad crossing in time to avoid a collision with a train. Truck drivers in general require additional time to cross over a railroad crossing.
How truck drivers can avoid collisions with trains in Delaware
In addition to stopping between 15 and 50 feet from the railroad tracks, truck drivers must look in both directions for an approaching train before crossing the railroad tracks. Even if truck drivers do not see a train approaching in their direction, they should keep their ears open for any sounds of an approaching train.
When crossing, truck drivers must cross the railroad tracks in a gear that allows the commercial vehicle to clear the crossing without having to switch gears. Last but not least, truck drivers must keep the truck moving while crossing in order to avoid getting stuck on the tracks.
How motor vehicle drivers can avoid collisions with trains in Delaware
Similar to a truck driver, motor vehicle drivers should always assume that a train is approaching and act accordingly. Remember that a train always has the right of way because the train cannot stop on a dime.
Drivers should also keep their eyes and ears open for any approaching trains. Because of new technology, trains are more silent than in the past. Motor vehicle drivers are advised to listen closely when approaching a railroad crossing, and stay alert. It can be helpful to turn down the radio, or even open a window is weather permits.
Motor vehicle drivers are advised to maintain a safe distance from the railroad tracks at all times. If it is safe to do so, drivers can cross the railroad tracks without stopping on them for any reason. You should never try to beat a train at a crossing.
While passengers trains are limited in how fast they can go – generally between 55 and 79 mph – some are capable of traveling much more quickly. (And if the President gets his way, Delaware might finally see that high-speed rail line we've been hearing about for years.) When a train is passing, drivers must wait for the crossing gates to completely raise before attempting to cross the tracks. There could be a situation where another train is passing in another direction.
What do I do if I get stuck on train tracks?
If you find yourself in a position where your car or truck has stalled on the railroad tracks, you should exit the vehicle immediately, whether a train is approaching or not. If a train is approaching, you should run away from the direction in which the train is traveling. Drivers are at risk of being struck by additional debris if they run in the same direction where the train is moving toward the vehicle.
Drivers or other bystanders who notice a vehicle stuck on the railroad tracks can either call 911 or call the number posted on the Emergency Notification Sign that is posted near the crossing. The crossing number and the street are posted so train operators can be notified as quickly as possible.
Silverman, McDonald, & Friedman offers proactive and creative strategies designed to help you and your family. If you sustained injuries in a collision with a car, truck, train, or any vehicle, we want to help. Please call 302-888-2900 or fill out our contact form to schedule a free consultation with a Delaware injury lawyer from our firm. With offices in Seaford, Newark, and Wilmington, we're always nearby when you need us most.