Workers' Compensation and Cold Weather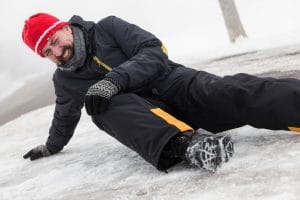 Workplace accidents happen all year round. Many accidents are weather-related. If you slip and fall on melting ice or snow, develop frostbite, or have any type of winter injury, call Silverman, McDonald & Friedman in Wilmington, Newark, or Seaford for help. We represent clients in all types of weather.
Many workplace accidents or injuries are due to working outside. Hopefully, once you're inside, you can warm up and avoid the treacherous cold and winds. Outside workers are prone to many types of accidents and illnesses including:
Slips and falls. These can occur on icy or wet surfaces, or surfaces, such as broken pavements, damaged by the cold weather.
Hypothermia occurs when your body loses heat faster than the heat can be replaced. According to the Mayo Clinic, your normal body temperature is around 98.6 F (37 C). Hypothermia "occurs as your body temperature falls below 95 F (35 C)." Low body temperature can damage your heart, your nervous system, and other parts of the body. If it's not treated, hypothermia can cause heart failure, respiratory failure, and death.
This injury occurs when the skin and underlying tissues freeze. It commonly occurs in your toes, fingers, ears, nose, chin, and cheeks – basically anywhere your skin is exposed. While it can usually be treated, complications include damage to the nerves and infection.
Trench foot. According to the Centers for Disease Control and Prevention (CDC), "trench foot, also known as immersion foot, occurs when the feet are wet for long periods of time. It can be quite painful, but it can be prevented and treated."
Which workers are most at-risk for cold weather injuries?
Extensive time outside, even when a worker is properly dressed from head to toe, can be extremely dangerous. Some of the many types of workers who need to work outdoors in cold weather include:
Construction workers
Road, parking lots, and community cleanup crews
Police officers
Firefighters
Sanitation crews
Emergency medical technicians
Highway maintenance companies
Landscapers
Utility workers
Surveyors
Workers in the HVAC industry
OSHA cold weather guidelines
The Occupational Safety and Health Administration provides guidelines for employers on helping workers in extreme conditions including cold and wet weather. It is not necessary for an employee to show the employer failed to follow these guidelines. It is not necessary for the worker to prove fault. If a cold-weather accident or event causes any injury, then you should have the right to file a workers' compensation claim. The OSHA guidelines, when followed, should reduce the risk of cold-weather injuries.
OSHA recognizes the following risk factors for cold-weather injuries:
Damp and wet weather
Employees who are tired
Not having the right clothing or dressing in layered clothing
Workers who are in bad health – such as workers with diabetes or cardiac disease – should stay inside
OSHA recommends the following safety measures:
Monitoring of the worker's physical condition
Dressing for cold weather
Staying dry because moisture (from sweating, for example) increases the rate of loss of body heat
Having spare clothing ready in case the worker gets wet
"Drinking "warm, sweetened" non-alcoholic fluids
"Using proper engineering controls, safe work practices, and personal protective equipment (PPE) provided by your employer"
At Silverman, McDonald & Friedman, our Delaware workers' compensation lawyers fight to confirm your injuries are work-related. We work with physicians and therapists to fully document your medical condition, medical needs, and your medical bills. We fight aggressively when employers try to force you back to work before you're healthy. To discuss your work injury case, please call us at 302.314.2319 or use our contact form to discuss your claim with our lawyers in Wilmington, Newark, and Seaford.
Meta Description. Cold weather increases the possibility of falls, hypothermia, frostbite, and trench foot. Call Silverman, McDonald & Friedman today to discuss your work injury claim.